Wait for the page to load, then judge a book by (clicking on) its cover: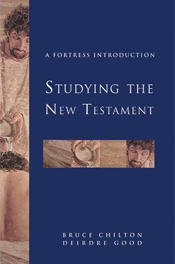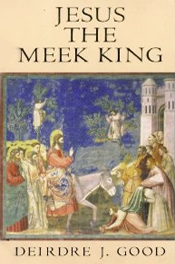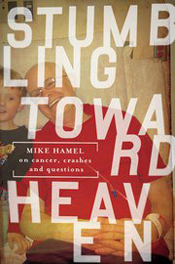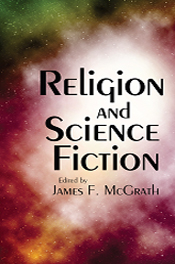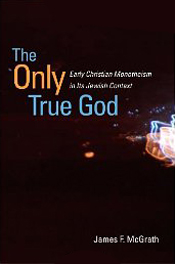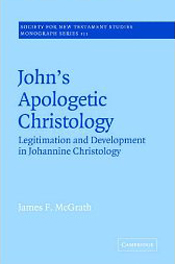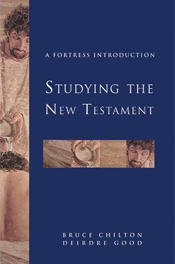 Bruce Chilton and Deirdre Good
Studying the New Testament: A Fortress Introduction
Fortress Press, 2010
This book offers an introduction to the literature of the New Testament, demonstrating how these writings can be approached and critically studied in an academic setting. Bruce Chilton and Deirdre J. Good, two respected New Testament scholars, provide a narrative of the historical context and social world of the books of the New Testament, a chronological survey of the Gospels and letters, and the remaining writings (Apocrypha, Apocalyptic) with their special focus on the emerging church. Together with textboxes, exercises, questions, further readings, maps, timeline, and glossary, this brief introduction surveys and employs leading methods of study and equips students with the general literacy needed for successful and serious study of New Testament writings.
Endorsements
"The way to write about New Testament study for beginners is to imitate Chilton and Good: use clear, accessible prose that steers a secure course between the rocks of competing methods and the shoals of conflicting interpretations. The authors provide answers where needed and properly challenge those who engage this book to want to learn more." —Richard I. Pervo, author of Acts, and The Making of Paul
"Studying the New Testament provides students and teachers with easily accessible information about the basic anatomy of the New Testament's contents and worlds, as well as major scholarly approaches and interpretive frameworks. This introductory guide is invaluable as a starting point and reference for those interested in critically-informed engagement with New Testament texts and contexts, ancient and (post)modern." —Davina C. Lopez, Assistant Professor of Religious Studies, Eckerd College, Saint Petersburg, Florida
Deirdre Good
Jesus' Family Values
Church Publishing, 2006
Buy: Paperback
What are Christian family values, why are there so many interpretations of what Jesus actually taught and said, and which biblical values should guide our lives? Many people claim to know what Jesus would say or do in the kinds of ethical dilemmas we face today, but applying "traditional" Christian values out of context actually sells Jesus' teachings short.
Through careful attention to the words and stories of Matthew, Luke, Mark, and John, and the letters of Paul, Deirdre Good provides an ideal method for learning what the Bible has to say to our communities and households today.
Endorsements
"A rigorously scholarly examination . . . setting scripture in a firm and well-researched historical context. . . . A desperately needed antidote to proponents of 'family values' who quote or misquote snippets of scripture to support specific narrow views, Jesus' Family Values places the highest value of all on truth. . . . Highly recommended." —Midwest Book Review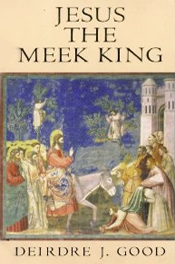 Deirdre J. Good
Jesus the Meek King
Trinity Press International, 1999
Buy: Paperback
What sort of king was Jesus? What is the meaning of Jesus' description of himself in Matthew's Gospel as "the meek king"? Jesus the Meek King is an exploration of a specific virtue in Paul, Matthew, the Hellenistic world, and English literature from Tyndale to the present. Modern readers are likely to understand the "meek" as Jesus' attempt to commend and exemplify submissive or humble behavior. "The meek" may even be seen unfavorably as those likely to submit tamely to oppression or injury.Ancient readers of Greek texts, however, understood the term more broadly as a trait of rulers whereby exercise of disciplined compassion overcomes anger. Meekness is also a dispositional virtue in the literature of the first century describing new Jewish and Christian groups and enhancing community life.
Most recent books about Jesus focus on history and biography. This book eschews historical questions for culturally specific understandings of humility and meekness. The result is a full and contextual understanding of Jesus the meek king.
Endorsements
"Jesus The Meek King calls us to study and rethink the meaning of meek. What it meant in Jesus' day is not what it means today. Good claims there is a balance of power and humility in the word "meek" as it was earlier understood. [Good] refers to it as "disciplined calmness," and her historical survey raises interesting questions about why this "disciplined calmness" is absent from modern discussions of meekness in biblical texts." —Episcopal Life
". . . a rich, wonderfully inviting book . . . the reader will be rewarded . . ." — The Living Church
". . . highlights the paradox of the power of meekness . . . compelling reconsideration of a misunderstood virtue . . ." —Frances Taylor Gench, Interpretation
". . . masterpiece of New Testament scholarship and highly recommended reading . . ." —The Midwest Book Review
". . . scholars must pay close attention to this work before writing again on NT ethics, "humility," or on kingship in Matthew. —Craig S. Keener, Eastern Baptist Seminary, in the Review of Biblical Literature
". . . creative and enticing. . . . Readers will find here an informative and deeply reflective study of an often-overlooked Christian virtue." —The Bible Today
"[Good] helps us see meekness not as the reflex of weakness but as the expression of true strength." —Luke Timothy Johnson, Robert W. Woodruff Professor of New Testament and Christian Origins, Candler School of Theology, Emory University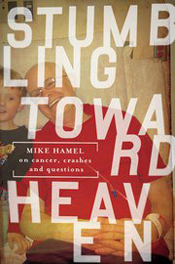 Mike Hamel
Stumbling Toward Heaven: Mike Hamel On Cancer, Crashes and Questions
Create Space, 2011
This book is about Mike's struggle with cancer in particular and life in general. It describes in detail what the disease has done to his body and what life before and during treatment has done to his mind, which has never been very stable in the first place. It follows his physical and spiritual journey toward the Valley of the Shadow of Death and beyond. This book is for everyone who has been impacted by life-threatening catastrophes. It is also meant for those who find themselves spiritually "off the reservation" as novelist and cancer survivor Kinky Friedman would say. For a long time Mike has been "out where the (church) buses don't run."
Endorsements
"The occurrence of the unexpected is an experience we all share in this life. It takes a gifted writer like Mike Hamel to help us make sense of it all . . . and have some laughs along the way. Prescription: Buy This Book!" —Bill Dahl, author, creator of The Porpoise Diving Life (.com)
"Mike Hamel has written a deeply personal and courageous book, a raw and honest journal of his struggles. . . . It is an invitation to experience the power of belief and the resilience of the human spirit." —Lee Cantelon, author of The Words
"Diagnosed with cancer in the prime of life, Mike has had to wrestle with his own faith while his body labored under the duress of chemotherapy. He offers us remarkable insights into the human condition and the capacity of the human spirit to triumph in the face of incredible adversity." —Dr. Dax Kurbegov, MD, Medical Director, Memorial Cancer Clinic
"Those who found insight in Randy Pausch's The Last Lecture will discover the same spirit here." —Jeff Rowes, Senior Attorney, Institute for Justice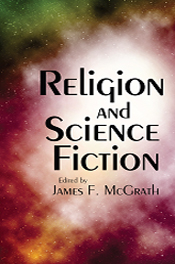 James F. McGrath (ed.)
Religion and Science Fiction
Pickwick Publications, 2011
Buy: Paperback
Religious themes, concepts, imagery, and terminology have featured prominently in much recent science fiction. In the book you hold in your hands, scholars working in a range of disciplines (such as theology, literature, history, music, and anthropology) offer their perspectives on a variety of points at which religion and science fiction intersect. From Frankenstein, by way of Christian apocalyptic, to Star Wars, Star Trek, Battlestar Galactica, and much more, and from the United States to China and back again, the authors who contribute to this volume serve as guides in the exploration of religion and science fiction as a multifaceted, multidisciplinary, and multicultural phenomenon.
Endorsements
"In Religion and Science Fiction, James McGrath has gathered an impressive array of voices and approaches to the issue of science fiction's treatment of religion. This richly interdisciplinary book shows there's more to the study of religion in SF than just theology or literary criticism alone have to offer." —Gabriel Mckee, author of The Gospel According to Science Fiction
"Religion and Science Fiction is a blessing to scholars and science fiction fans alike. The ideas engaged by each author-from postmodern post-apocalypticism to dime store heroes and space-faring robots-challenge our assumptions about culture, intellectual life, and even the very essence of what it means to be human. The authors use science fiction to explore religion and religion to elucidate science fiction; this combination gives us a richer understanding of both." —Robert M Geraci, author of Apocalyptic AI: Visions of Heaven in Robotics, Artificial Intelligence, and Virtual Reality.
"This collection invites the reader into thoughtful reflection on the religion and theology (broadly understood) of a range of science fiction works (broadly understood). Kudos to McGrath and his contributors for this interdisciplinary exploration!" —Marti J. Steussy MacAllister-Petticrew, author of Forest of the Night and Dreams of Dawn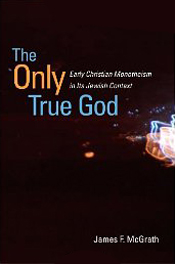 James F. McGrath
The Only True God: Christian Monotheism in Its Jewish Context
University of Illinois Press, 2009
Buy: Paperback
Monotheism, the idea that there is only one true God, is a powerful religious concept that was shaped by competing ideas and the problems they raised. Surveying New Testament writings and Jewish sources from before and after the rise of Christianity, James F. McGrath argues that even the most developed Christologies in the New Testament fit within the context of first century Jewish "monotheism." In doing so, he pinpoints more precisely when the parting of ways took place over the issue of God's oneness, and he explores philosophical ideas such as "creation out of nothing," which caused Jews and Christians to develop differing concepts and definitions about God."Sheds new light on the date and reasons for the division between Jewish and Christian monotheism. . . . Recommended." —Choice
"An important corrective to the view that tends to interpret New Testament Christology in terms of Nicaea and later developments, thereby missing the Jewish intertextual and hermeneutical keys to interpreting many New Testament texts." —Review of Biblical Literature
James F. McGrath
The Burial of Jesus: History and Faith
Book Surge, 2008
Buy: Paperback
In The Burial of Jesus: History and Faith, Dr. James F. McGrath seeks to introduce a general audience to the methods historians apply to the study of the life of Jesus. Topics addressed include: how historical study work (and why historians regularly explore possibilities that religious believers find shocking); why Jesus' disciples would have wanted to steal his body from the tomb; why later Gospel authors changed elements in Mark's earlier version; and why Christian faith in the resurrection cannot be about what happened to a body almost 2,000 years ago.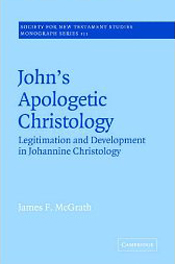 James F. McGrath
John's Apologetic Christology: Legitimation and Development in Johannine Christology
Cambridge University Press, 2004
James McGrath offers a convincing explanation of how and why John arrived at a christological portrait of Jesus that is so different from that of other New Testament authors, and yet at the same time clearly has its roots in earlier tradition. McGrath suggests that as the author of the Fourth Gospel sought to defend his beliefs about Jesus against the objections brought by opponents, he developed and drew out further implications from the beliefs he inherited. The book studies this process using insights from the field of sociology.
Endorsements
"McGrath's volume is a welcome addition to Johannine studies. It provides a clear and reasonable context for the development of John's christology." —Journal of Religion
"This scholarly work is a fine study of Johannine christology. . . . Thorough and fair." —The Bible Today
"McGrath's book, a revision of his Ph.D. dissertation directed by Professor James D. G. Dunn, endeavors to make a contribution to our understanding of the Christology of the Gospel of John. . . . He is to be commended for identifying and redressing the relative neglect of social-scientific tools in the study of this subject." —The Catholic Biblical Quarterly
Thom Stark
Foreword by John J. Collins
The Human Faces of God: What Scripture Reveals When It Gets God Wrong (and Why Inerrancy Tries To Hide It)
Wipf and Stock, 2011
Buy: Paperback | Kindle
Download: Promotional Flyer
Does accepting the doctrine of biblical inspiration necessitate belief in biblical inerrancy? The Bible has always functioned authoritatively in the life of the church, but what exactly should that mean? Must it mean the Bible is without error in all historical details and ethical teachings? What should thoughtful Christians do with texts that propose God is pleased by human sacrifice or that God commanded Israel to commit acts of genocide? What about texts that contain historical errors or predictions that have gone unfulfilled long beyond their expiration dates?
In The Human Faces of God, Thom Stark moves beyond notions of inerrancy in order to confront such problematic texts and open up a conversation about new ways they can be used in service of the church and its moral witness today. Readers looking for an academically informed yet accessible discussion of the Bible's thorniest texts will find a thought-provoking and indispensable resource in The Human Faces of God.
Endorsements
"Christians can ignore the facts that Stark brings into the light of day only if they want to be wrong." —Dale C. Allison, Jr., author of Constructing Jesus
"The Human Faces of God is one of the most challenging and well-argued cases against the doctrine of biblical inerrancy I have ever read." —Greg A. Boyd, author of The Myth of a Christian Nation
"I learned so much from this book that I can strongly encourage anyone who is seeking to move from simplistic proof-texting to a comprehensive understanding of the Bible to read this book carefully." —Tony Campolo, author of Red Letter Christians
"This is must reading for Christians who have agonized over their own private doubts about Scripture and for others who have given up hope that evangelical Christians can practice intelligent, moral interpretation of the Bible." —Neil Elliott, author of Liberating Paul
"[W]ith the help of this book, we may discover that the Bible—when we read it in all its diversity and vulnerability—does bring healing words to those who keep listening." —Ted Grimsrud, author of Embodying the Way of Jesus
"Stark's book effectively demonstrates how the Bible, in practice, is the most dangerous enemy of fundamentalists." —James F. McGrath, author of The Only True God
"Stark provides a model for theology that is committed to hearing the voice of the victims of history, especially the victims of our own religious traditions." —Michael J. Iafrate, PhD. Candidate, Toronto School of Theology
"This book is the most powerful antidote to fundamentalism that I've ever read." —Frank Schaeffer, author of Crazy for God