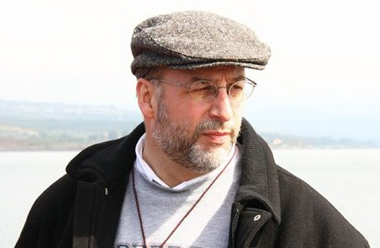 Since I wrote my analysis of the fiscally-driven controversy surrounding Dr. Chris Rollston's anything-but-controversial Huffington Post article, several others have weighed in with support for Dr. Rollston:
First, Bob Cargill engages ECS's Paul Blowers here.
Tom Verenna writes: "On Academic Integrity and the Future of Biblical Studies in Confessional Institutions"
Jim West writes: "An Open Letter to the Emmanuel Christian Seminary concerning Christopher Rollston"
Joe Zias writes: "An Open Letter to Emmanuel Christian Seminary"
James Bos writes: "A Letter to ECS in Support of Christopher Rollston"
James Tabor writes: "Can A Christian Be A Historian? Heretic Hunting in 2012"
UPDATE (10/8/12)
Dr. Jim Linville skewers Blowers, the Three Young Men, and Emmanuel, in his article, "Shouldn't Professors Get To Profess? The Mascu-Klan at Emmanuel Christian Seminary Don't Seem To Think So."
Paul Blowers wrote a self-apologia over on Bible and Interpretation, "Academic Integrity within a Confessional Institution: An 'Insider's' Response to Thomas Verenna"
It was quickly decimated in the comment thread. I also wrote a response here: "Paul Blowers Shovels More Nonsense at the Feet of Straw Man Christopher Rollston"
And Jim West responded with, "In Which Mr Blowers Sidesteps the Real Issue of the Moment"
UPDATE (10/9/12)
James McGrath offers his thoughts and issues a roundup of his own with, "In Support of Christopher Rollston."
Mark Goodacre lends his voice "In Support of Christopher Rollston and Academic Integrity."
UPDATE (10/10/12)
Over on PaleoJudaica, Jim Davila asks, "Is Christopher Rollston Being 'Disciplined' for a HuffPo Essay?" and balks at the idea, suggesting Emmanuel immediately release a statement letting us know this was all a big misunderstanding.
And then there's this piece by some Rhoger Pearse, who I'm sure Blowers and Emmanuel are proud to have come to their defense.
BREAKING UPDATE (10/15/12)
An anonymous source not affiliated with Emmanuel has leaked to Inside Higher Education a letter given to Dr. Rollston by ECS President Mike Sweeney detailing the reasons for Dr. Rollston's termination. The article at Inside Higher Education quotes portions of the letter, but not the whole thing, and, as someone who is aware of the contents of the letter, I say not all of the pertinent details. But what it does reveal is very damning for Emmanuel, and for President Sweeney in particular. The letter in its entirety, and several other not-yet-released details, would only further expose the scandalous nature of Emmanuel's decision to force Dr. Rollston into resignation.
Dr. Robert Cargill follows up the IHE exposé with a scathing condemnation of Emmanuel, Dr. Blowers, and Pres. Sweeney.
Joel Watts lets loose on Blowers, Sweeney, and Emmanuel, in "PAU£ BLOWER$, MICHAE£ $WEENEY, AND EMMANUE£ €HRISTIAN $EMINARY."
Tom Verenna writes, "Inside Higher Ed: Rollston Threatened for Financial Reasons."
And here is perhaps the most incisive of them all, by Jeremiah Bailey: "Tenuous Tenure: My Thoughts on the Rollston Debacle."
I'll keep this post updated as the flood waters rise.