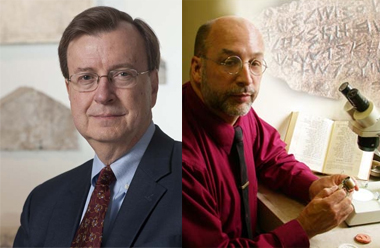 Dr. P. Kyle McCarter, the William Foxwell Albright Professor of Biblical and Ancient Near Eastern Studies at the Johns Hopkins University, has written a lengthy open letter in support of Dr. Rollston. He has published this letter both on his own personal website (here) and on Dr. Jack Sasson's ubiquitous academic newsletter. With his kind permission, I've reproduced Dr. McCarter's letter here in full. But please be sure to visit his website.  Yesterday, 11/13/2012, Dr. McCarter wrote:
—————
Emmanuel Christian Seminary wants to fire Chris Rollston.  This is not news.  It's already known to readers of this list and other public and semi-public forums.  Still, it seems to me to be a matter of such gravity, and now urgency, that I should call attention to it yet again.  My hope is that colleagues who share my concern will find time to send messages expressing their points of view to relevant addresses at Emmanuel — but more on that below.  First let me describe the situation more precisely and then explain why it's especially important to me.
To be precise, administrators and others at Emmanuel Christian Seminary have been working hard since at least September to sever the contractual relationship between their institution and Christopher A. Rollston, The Toyozo W. Nakarai Professor of Old Testament and Semitic Studies.  They want to revoke his tenure, and remove the protections it gives to his academic freedom; they want to terminate his teaching privileges, and prevent him from sharing his knowledge and ideas with Emmanuel students; and they want to discontinue his salary, and require him to find another way to support his family.  The reasons these members of the Emmanuel leadership have decided to take such drastic action are complex.  I think I understand most or all of the issues,  but I'm not directly involved, my information is second hand, and I don't think it would be useful or fair to Emmanuel or to Chris for me to give a detailed account of my understanding of the things that have been said and done.  What is clear, though, is that the Emmanuel officials who want Chris Rollston ousted have serious religious objections to the things he says about the Bible and to the way he teaches it.
Before commenting further on the last point, let me be candid about my own interest in this case.  I place the highest possible value on intellectual freedom, and I hope I would respond strongly to any situation where I thought I saw it being threatened or abused.  Here, though, I also have a clear personal interest and no wish to conceal it.  First, I consider Chris a close friend, and I hope he thinks of me the same way.  Second, I hold him in high esteem as a colleague who is doing increasingly important work in scholarly areas of special interest to me.  Surpassing even these things in influencing my perspective on Chris's current predicament, though, is the fact that he was my student, my Doktorsohn.  These days, in light of what he has achieved as a scholar, I feel very good about how well I taught him Hebrew paleography, but I worry that I fell short of my responsibility to counsel him about how small-minded and mean-spirited the Academy can be at its worst.  I'm saddened and outraged by what I see happening at Emmanuel, and when I think of the ordeal Chris is going through, I'm agonized and enraged.  So I can't represent myself as only a principled senior academic who is affronted when he sees an institution misbehaving — with me this is much more personal than that.
Now, returning to the earlier point, I've suggested that Emmanuel officials object to Chris's views on the Bible.  To be more clear, Chris's thinking seems to be regarded as too progressive for some who are in decision-making positions at Emmanuel.  This seems strange to me.  The foundations of Chris's biblical training were acquired at Emmanuel itself (then called Emmanuel School of Religion) when he was a master's student there working under fine Old Testament scholars like Robert Owens (now at General Theological Seminary in New York).  After receiving his M.A.R. from Emmanuel, Chris came to Johns Hopkins as a Near Eastern Studies doctoral student.  We found him already well prepared in historical-critical scholarship and entirely comfortable with its application to the Hebrew Bible.  Perhaps some will suspect that while Chris was doing his Ph.D. work we introduced ideas into his thinking that would be objectionable to Emmanuel, but that suspicion seems contradicted by the fact that as soon as Chris finished his work with us, Emmanuel hired him as a member of its Bible faculty.  That was more than a decade ago, and Chris's biblical scholarship must have been deemed acceptable to Emmanuel when they hired him then.  In fact, it seems safe to say that it was still fully acceptable at least as recently as the spring of 2006, because that was when Emmanuel promoted Chris to the rank of Professor and awarded him tenure.
In the years since Chris's promotion and tenure his academic reputation has burgeoned nationally and internationally, most especially in the field of Northwest Semitic epigraphy, in which his voice is rapidly becoming one of the most respected in the world.  This seems to me especially relevant to the concerns of Emmanuel, since it indicates that a principal part of Chris's work has to do with examining, interpreting and evaluating ancient inscriptions, perhaps especially ancient Hebrew inscriptions.  To put it somewhat melodramatically, Chris is a scholar who brings to life the voices of the people of the biblical world, and his findings are an embarrassment to any scholar or layperson who might express skepticism about the historical reality of the ancient community.  So if someone told me that Chris had become a hero of religious conservatives, I might not have been surprised, but to hear the opposite, that conservatives find his work abhorrent, is astonishing.  It makes me wonder if there is some great misunderstanding hidden in all the ugliness that has erupted at Emmanuel.
I fear, though, that there is no misunderstanding, and that there are those at Emmanuel who have both the power and the will to persist in their persecution of Chris Rollston.  If this is true, then Chris has no choice but to take the steps necessary to protect himself from charges and action that he believes to be incorrect, unjust and improper.  What can the rest of us do?  First, I think, we can be vigilant about the process of Chris's case to be sure that it's conducted according to the long and widely accepted academic principles that apply to cases of proposed dismissal for cause.  For example, if it is true, as we have all heard, that the catalyst for these events was the disapproval by some members of the Emmanuel community of a Huffington Post blog entry posted by Chris last August, we must understand (and if necessary remind Emmanuel) that this is a matter that cannot be taken into consideration in the deliberation of Chris's case unless Emmanuel chooses to disregard the generally accepted recommendations and guidelines of such groups as the American Association of University Professors, in which such matters are explicitly excluded from dismissal for cause cases.  In other words, we must keep in sight the long-held opinion of AAUP and others that stipulates that Chris's contract with Emmanuel cannot deny him rights possessed by every other American citizen.  This is only one example, but I think it illustrates the need for those of us who are Chris's friends and colleagues (likely including his scholarly adversaries who nevertheless are concerned about the infringement of academic freedom) to pay attention to the events as they transpire and collectively insist on a fair process.  In this regard it's reassuring to know that an officer of AAUP has already written a letter of concern to Emmanuel's president expressing the hope that all of AAUP's widely accepted procedural standards will be followed in Chris Rollston's case.  Emmanuel Christian Seminary does have a written policy on academic freedom of its own, and it uses language adopted directly from AAUP documents, so that I think there's reason to hope that AAUP's concern will not be quickly set aside.  I also find it encouraging to know that Emmanuel Christian Seminary is accredited by the Southern Association of Colleges and Schools (SACS) and by the Association of Theological Schools (ATS), and I expect that these two bodies will take an active interest in Chris's case in order to satisfy themselves that their accreditation requirements and guidelines that apply issues with which the case is concerned are being conscientiously followed.
I've written this public letter because I've watched the treatment of Chris Rollston by Emmanuel Christian Seminary closely, and what I've seen so far has me deeply troubled both professionally and personally, as I've explained.  My sense is that events are now beginning to move rapidly, so that declarations of concern at this point will be very timely.  I've expressed the hope that we will be vigilant and attentive to the process, and I believe that it might help if we directly notify the institution of our general concern and our intention to play a watchdog role.  We can do this by contacting the chief academic officers of the Seminary.  The President is Michael Sweeney (msweeney@ecs.edu) and the Academic Dean is Jack Holland (jholland@ecs.edu).  Even brief messages to President Sweeney and Dean Holland will demonstrate the sincerity of our interest.  Those of you (and there are many) who have knowledge of specific issues and events (things I've deliberately omitted from this letter for reasons already explained) may wish to address those things at some length, but (to repeat) short messages will help too.  Many of you will have already written, but there's no reason you shouldn't write again.  You might also consider writing to Emmanuel's accrediting boards, mentioned above.  The representative at SACS is Steven Sheeley (ssheeley@sacscoc.org), and the representative at ATS is Tisa Lewis (lewis@ats.edu). Some of you, moreover, may have special knowledge that could be particularly useful.  If, for example, you have worked in any capacity with either of Emmanuel's accrediting boards (SACS or ATS, see above), you may know a more direct way to call their attention to this issue — I feel confident they will want to investigate, but I don't know if they are yet involved.  If by chance any of you knows one or more trustees of Emmanuel Christian Seminary, you might be able to play a particularly valuable role.  As I said above, considering the inevitably positivistic character of Chris's epigraphic work, it's surprising to me that he hasn't found support within even the conservative spectrum of Emmanuel's constituencies, and I wonder if all the trustees have been told the whole story.
In sum, all of us who hold academic positions, whether in secular or religious or confessional institutions, have a stake in what's happening in Johnson City, Tennessee.  Many of you don't know Chris personally, but even some of you who don't know him personally have already taken bold positions on his behalf, and you have and deserve the special respect of us all.  For those of us who do know Chris, who know the quality and integrity of his work, and who know the quality and integrity of the man, we can't help but ask ourselves:  Is this a man whose job performance is such that he should be threatened with dismissal for cause?  This man?  Chris Rollston?  The notion is so absurd that it stops all thought processes, leaving only confusion.  How did things get to this point?
Respectfully yours,
P. Kyle McCarter
William Foxwell Albright Professor of Biblical and Ancient Near Eastern Studies
The Johns Hopkins University