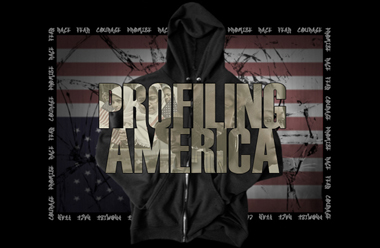 We've just launched a Kickstarter fundraiser for our next film, a documentary called Profiling America. It will deal with racial and religious profiling and institutional racism in the US. If you have a few minutes, check out the Kickstarter page which will tell you a lot more about the film, and if you think this is something you can get behind, please consider helping to raise awareness about the fundraiser on your social media and any other outlets you may have. We're asking for small pledges (at least 1 to 5 dollars), but also (and most importantly) we're asking that you directly and personally ask at least ten friends to contribute 1 to 5 dollars and to ask at least ten of their friends, and so on.
Also, no matter when you make a pledge, you won't be charged until the fundraiser is over, which is 11:59PM CDT on Monday the 21st of May. And you won't be charged at all if we don't reach our $100,000 goal. So if you don't think we can make it, go ahead and pledge liberally!
If you are willing to help raise awareness, here are some social media templates for you to use. Feel free to change them up or rewrite them as you see fit:
—————————————-
Facebook and Google +
There's a fundraiser on Kickstarter for a documentary film called _Profiling America._ It'll deal with racial and religious profiling and institutional racism in the USA, looking specifically at cases involving African-American, Hispanic-American, and Muslim-American racial profiling. The fundraising goal is $100,000. I urge you to consider pledging at least 1-5 dollars and, most importantly, directly and personally asking at least ten friends to do the same, and so on. Let's get this important film funded and then some! http://www.kickstarter.com/projects/planetoid562/profiling-america-0
Twitter
A fundraiser for a documentary on racial profiling in America. Pledge 1-5 dollars and ask ten friends to do the same. http://kck.st/HtkF6y
—————————————–
We appreciate social media links, but the key ingredient in our campaign is going to be everybody personally asking ten friends. We can easily reach our goal if everybody chips in just a few bucks and spreads the word to at least ten people.