Matt Flannagan has just posted a response to some quick and cursory criticisms I made of his position on the Canaanite genocides in the introduction to my review of Douglas Earl's book. As Matt himself notes, "as a review, much of it was addressed to the specifics of Earl's book. However, in the introduction Stark offered a critique of Wolterstorff's position and made reference to my defence of it."
Thus, my criticisms of Matt's position weren't very substantial in length, but Matt has written a sustained response. Perhaps he would do better to wait for my forthcoming critical review of Paul Copan's book before he gets too far ahead of himself, but that's just some friendly advice.
Here are the three premises of Matt's position, as articulated by Matt in his blog post:
First, the so called genocide accounts in Joshua 1-11 are part of a broader context which includes both the rest of Joshua but also other canonical books, such as the book of Judges. When one reads the whole sequence one observes that while early passages in Joshua describe Israel exterminating the inhabitants, later passages in Joshua and Judges proceed on the assumption this never literally happened. Taken literally these accounts of the conquest contradict each other.

Second, this contrast is fairly obvious. Whoever "edited the final version of these writings into one sequence" was not "mindless" and would have noticed "the tensions and contradictions – surface or real"; therefore, they cannot have intended to affirm both as literally true.

Third, while Judges appears relatively "down to earth", a careful reading of Joshua shows it to "be full of ritualistic, stylised, accounts, formulaic language". This final point suggests that Joshua is the non-literal figurative one and Judges is the more literal account.
Moving into his discussion of the brief comments I made in my review of Earl, Matt writes:
[Stark] seems to clearly grant the first premise; he accepts that, taken literally, the first half of Joshua contradicts the second half and the book of Judges. Stark also appears to grant the third premise or at least some of my supporting argument for it; . . . he stated that Lawson Younger "has shown definitively that the conquest narratives follow a basic ancient conquest script, replete with exaggerations, [and] hyperbole."

In his review Stark defends Younger's contention that Joshua is such an account against Earl's criticisms. He also grants that the gods destroying the enemy with a meteor or hailstones is a common "literary motif" and is "exaggerated."

As best I can tell, Stark takes issue with Wolterstorff's second premise. He summarises it as,

The hyperbolists say that, since the author wasn't stupid, the contradictions indicate that the language of total destruction is not to be taken literally. If it says in one part of the book that an entire population was killed, but that population is still alive later on, then it is clear that the earlier statement was hyperbolic in nature, not to be taken literally.

In response he argues,

Earl argues that the book of Joshua is composite in nature. The first half of the book, chapters 1-12, was written by the Deuteronomistic historian, but chapters 13-22 were written by the Priestly writer. Chapter 23 returns again to the concerns of the Deuteronomistic historian, and according to Earl, chapter 24 (the final chapter) represents a more generic summary.

If Earl is correct that Joshua is two-part composite, that sufficiently explains the contradictions between the summaries of military victories. The latter half of Joshua does not contradict the former in order to provide a cue to read the earlier statements as hyperbolic; they are contradictory because they represent two different sources with two different agendas.

Stark suggests Wolterstorff's second premise is undermined by the fact that the final form of Joshua combines or draws upon two different sources. The authors of these sources had different agendas and contradict each other. This explains the contradictions without suggesting the author mindlessly wrote an obviously contradictory narrative. Each author wrote a coherent narrative, it is just that their narratives contradict the account of the other author, but none of them blatantly contradicted themselves.
Now, Matt says that my response here is a "non-starter based on a failure to grasp Wolterstorff's point." So here's Wolterstorff's point:
Those whose occupation it is to try to determine the origins of these writings will suggest that the editors had contradictory records, oral traditions, and so forth to work with. No doubt this is correct. But those who edited the final version of these writings into one sequence were not mindless; they could see, as well as you and I can see, the tensions and contradictions – surface or real – that I have pointed to. So what is going on?
Matt continues:
Nothing in this comment is undermined by noting that Joshua is a composite document and that the redactors of the final form drew on different and contradictory sources. Wolterstorff, in fact, grants that this may have been the case. His point is that the redactors of the final version choose to put both these sources side by side as part of a single book within a series. And these redactors were not, mindless or stupid, and so the redactors of the final version could not have intended to affirm both accounts of the conquest as literally true.
So, Matt's contention is that because the redactors weren't stupid, they obviously didn't see these texts as contradictory. How Matt knows they weren't stupid is beyond me.
I'm of course joking. I don't think they were stupid either. I'll respond to this argument below, after Matt makes it a couple more times. But first, Matt continues:
Even if the authors of the redactors' sources were internally consistent and disagreed only with each other, this is beside the point. Wolterstorff is not talking about the authors of the sources; he is talking about the redactors who combined different sources into a single narrative sequence. These redactors would be contradicting themselves if they intended both accounts to be literally true.
So there's the full argument. It's all right if the redactors' original sources actually contradicted each other. What matters is that the (inspired?) redactors wanted to affirm both potentially contradictory sources, but only one of them literally, the other one hyperbolically.
Now, Matt contends that:
to actually address Wolterstorff's second premise Stark needs to argue that the final redactors did put both these sections together in an obviously contradictory narrative intending to affirm both as literally true. The redactors were either stupid or they missed the blatantly obvious contradictions in front of them. This is an extremely uncharitable contention.
I suppose it would be, but it's not my contention. And no, Matt is not correct that I "need to argue that the final redactors did put both these sections together in an obviously contradictory narrative intending to affirm both as literally true."
What I actually need to argue, or rather just state plainly so that perchance it may be understood, is what any scholar who works in source criticism is already aware of. Matt, Copan, Wolterstorff, and other apologists keep making this claim incessantly that the redactors wouldn't put two contradictory texts together unless they were stupid. This is a false dichotomy.
What source critics understand is that (1) ancient redactors weren't as bothered by these sorts of contradictions as we moderns are, and (2) for the most part their M.O. was to faithfully preserve their source material, allowing contradictions to stand. (They hadn't heard about the doctrine of inerrancy yet.) So a few tiqqune sopherim (pious scribal alterations of the text) notwithstanding, scribes were interested in preserving their source material intact.
Redactors compiled source materials not as a modern would, in order to weave a seamless, consistent narrative, but rather to bring together various traditions into one body. Their reasons for doing this were often political. As one people with one set of traditions came together with another people with another set of traditions, redactors would combine the traditions so that the new unity of the two peoples is reflected in the new unity of their various traditions. This political motivation is seen especially in the combination of traditions from the Yahwist and the Elohist, reflecting the period after the fall of the Northern Kingdom when many Israelites migrated south to live among their Judean kinsmen.
This is abundantly clear all over the Hebrew Bible, perhaps nowhere more so than in the flood narrative. The flood narrative preserves two separate accounts of the flood, spliced together in a loose chronological order, each of which reflects a very different account of the flood. They are contradictory, but they stand together in one composite narrative, contradictions intact.
Now look at the two flood traditions from the Yahwist and the Priestly Writer. Take a few minutes to read the composite, final form of the flood narrative first (download here), and then take a few additional minutes to read the two sources as source critics have teased them out, side-by-side (download here). Come back when you're done.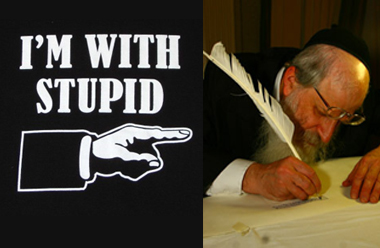 Now, as is clear from the reading, if the redactor of these two traditions thought the texts weren't contradictory, then he really must have been stupid! But source critics don't think the redactor was stupid. The redactor's purpose was not to combine the sources into a coherent, internally consistent narrative, but rather to combine the narratives in a way that allows them to maintain their distinctiveness while at the same time uniting them. Redactors cared about their source material, not because they thought it was "inerrant," but because the source material reflected the traditions of the peoples. When the post-exilic redactor compiled these two flood narratives, he was doing so on behalf of two traditions both of which continued to be represented by the inhabitants of a post-exilic Judea.
So much for this uninformed false dichotomy which posits either a consistent composite text or a stupid redactor. I hope I never have to read that argument again.
Now Matt continues with an admirable yet humorous attempt to try to trip me up in my own logic. I'll quote it at length just in case the reader thinks I'm caricaturing his argument:
Stark can only make this argument by engaging in special pleading because throughout his review he works on the assumption that the author of a literary unit does not author an obviously contradictory narrative. Consider one example: Stark notes that in Judges 20-21 the Israelites "proceeded to massacre every last woman and child in the land of Benjamin." Stark argues this language cannot be hyperbolic because,

[In] the second half of the story. The Israelites decided to show mercy on the tribe of Benjamin, not desiring to blot them out forever. The problem they face, however, is that there are only a few hundred remaining men (the soldiers who escaped), who no longer have wives and children. Why? Because the slaughters were not exaggerated.

Stark here argues that if one reads the first half of the story hyperbolically it will contradict what is said in the second half, and so for this reason one cannot read it hyperbolically. Note this inference utilises the same line of argument Wolterstorff does; it assumes that an author does not juxtapose an account or battle in the second half of a narrative when it obviously contradicts what they have said in the first half.
Matt is really stretching to find some way to trip me up. He of course ignores the fact that the second half of the account in Judges clearly states that the Israelites had killed all the women and children (which is really the only point that needs to be made). But Matt ignores that and tries to distract attention by positing an inconsistency in my reasoning. Of course, Matt's attempt to do so is based on a fundamental error.
Here is my contention: my contention is that an author of a single literary unit wouldn't contradict himself.
Here is what my contention is not: my contention is not that a compiler of two contradictory sources wouldn't let any contradictions stand.
Thus, Matt's attempt to paint me as a "special pleader" I think just reveals that Matt hasn't thought this through all the way.
The account of the slaughter of the Benjamite civilians in Judges 20-21 was written by a single author, and is a single literary unit. A single author wouldn't contradict himself in the same literary unit. That would be stupid.
The book of Joshua, on the other hand, was written by multiple authors, over a period of centuries. In a conversation I had with him at SBL/ASOR Atlanta, Lawson Younger concurred on this point and used the term "rolling narrative" to describe Joshua, and affirmed that the composition of its various components took place over a long period of time.
So when one component of Joshua contradicts another component of Joshua, those are real contradictions. It's just that the redactor wasn't concerned to smooth them out, because that's not what redactors did.
Therefore, since Matt and Copan have already conceded that the book of Joshua is composite, they can no longer argue that the contradictions in the text are evidence that one statement is hyperbolic while the other is literal. They can still make that argument in other ways if they wish (all of which I'll address in my review of Copan), but they can't do it in this way, because the argument from redactional stupidity is, what's the term, oh, a "non-starter."
Now Matt says he's going to write a part two. I welcome it, although, as I said, he may want to wait until I release my critique of Copan, because I'll probably address anything he's going to say in part two in that review, since Copan and Matt are recycling essentially the same arguments.
Blessings on all of your heads.